What Is a UX Designer? was originally published on uConnect External Content.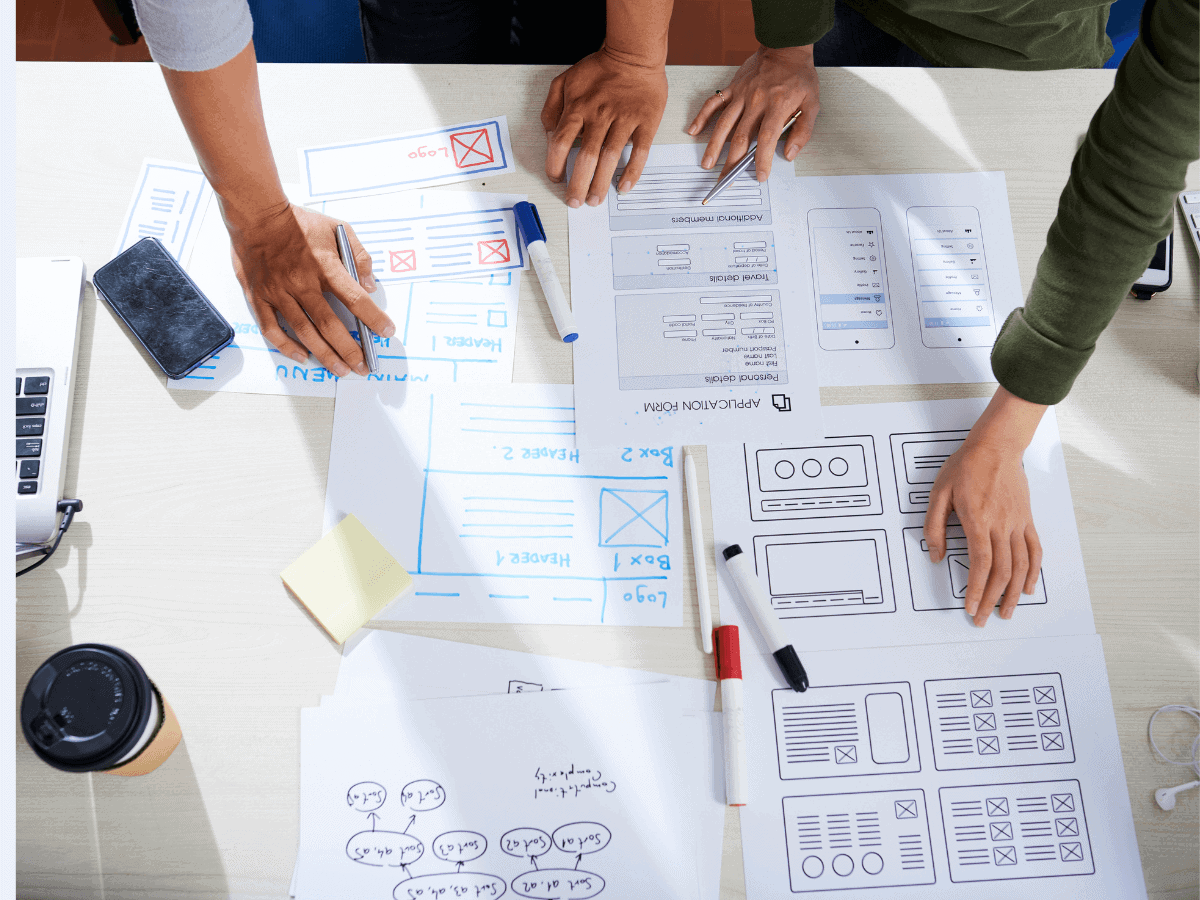 UX designers are behind-the-scenes magicians who make our experiences on websites or apps easier, more efficient, and even fun. Through research, testing, and design skills, they imagine and re-imagine websites and apps to match what users are looking for. So, what is a UX designer, and what exactly do they do? In this guide, we'll cover:
Find your career fit
Discover if this is the right career path for you with a free virtual work experience.
UX Designer Definition
A UX designer's primary goal is to improve how we experience a website or app. These professionals help users use the product easily, understand why they should use it, and make them want to engage with it.
>>MORE: What Is UX Design?
What Does a UX Designer Do?
A UX designer designs the user experience from start to finish, from identifying an issue with the current user experience to improving a final design. Some typical responsibilities include:
Collaborating with external team members and clients to understand what they're looking for
Conducting market research to see what competitors' UX is
Conducting user research to understand what users are looking for from their product
Developing user personas to map out who the product's ideal users are
Designing wireframes to map out what an individual web page should look like
Creating prototypes to show team members for feedback
Performing user testing to understand how users experience a new potential design
A Typical UX Designer Day
What does a typical day as a UX designer look like? Well, there's no one right answer.
"As a UX Designer, I would say there is no 'typical' day," Frankie Kastenbaum, senior UX designer at United Airlines, says. "It will depend on the style of your team and where you are in the process or project. Some days will be meeting heavy as a way to make sure everyone is aligned and understands what lies ahead. In some roles I have worked with a full product team and others I have worked solely with just engineers or the stakeholders. Other days will be more heads down doing heavy design work."
Stephanie Shaw, product designer at Collectors, agrees there's "never a dull day in design." Her typical week includes a standup, meetings with stakeholders, design work, and sharing designs with her team.
Standup
In this meeting, she runs through the projects she's working on and the team's priorities with her coworkers. "Each designer on my team works on a different product and is a part of a smaller 'Feature Crew' with their own product manager and engineers. So I then meet with my feature crew (I'm on the mobile team) and we go through our tickets for the week where I make sure we have updated and annotated designs for everything the engineers are working on."
Meetings With Stakeholders
Shaw's meetings depend on who she's working closely with that day. For example, she may work with other designers or external team members, like engineers.
"In a typical day I have 2-3 meetings, whether that's a design critique session with other designers, a brainstorming session with my product manager on a new feature on our roadmap, or a walkthrough of my designs with engineers to go over technical constraints and feasibility," she says.
Designing
Shaw spends her time designing in Figma, the industry standard design tool. In Figma, she does "lots of design exploration, trying out different UI patterns, iterating on what a feature or screen might look like, designing what each tap and use case would look like, and trying to come up with the best, simplest solution."
Sharing Designs
Once the design work is ready to share outside of the team, she'll need to prototype designs for user testing, "mock-up concepts to communicate ideas to stakeholders, and document when [she] finds discrepancies between the design and the product once it's live."
What Kinds of Jobs Can a UX Designer Have?
UX designers often hold the title "UX designer," but they may also have titles that include "product" or synonyms for user experience. Some of these titles are:
UX/UI designer
Information architect
Product manager
Product designer
Product owner
Manager of product design
Interaction designer
Experience designer
Strategic designer
>>MORE: Want to know what a day in the life of an experience designer and strategic designer at BCG is like? Try BCG's Design Virtual Experience Program.
UX designers (or any of the above job titles) can work in a variety of industries, from technology to software and even health care. Any industry with a company that wants to improve its user experience on its website or app can hire a UX designer.
UX Design Salary
The U.S. Bureau of Labor Statistics doesn't have a specific occupational outlook for UX designers but does report on web developers and digital designers, which includes UX designers. The average salary for these roles was $$95,460 in 2021. The outlook for this occupation is strong, too, with jobs expected to grow 23% from 2021 to 231, much faster than average.
Web and digital interface designers earn the highest average salaries in Washington, New York, and Iowa; the average annual wage in each state is well over $100,000.
How to Become a UX Designer
Education
Do you need a degree to become a UX designer? Because the field is newer, there are only a few UX-specific degree programs. However, 82% of UX designers have at least a bachelor's degree. So, what should you study if you're pursuing a degree and are interested in the field?
Related degrees include:
Psychology
Computer science
Anthropology
English
Information technology
Graphic design
Do you really need a degree to land a role in the field? Not necessarily. While some employers may require a degree in their hiring process, there are no specific degree requirements for landing this role.
>>MORE: New Collar Jobs: Why Companies Are Prioritizing Skills Over School
Alternative Education
Instead, many UX designers opt to learn their UX design skills in alternative ways, like online bootcamps and workshops.
"I personally did not go to school for anything design related — I had a degree in English and three years of teaching experience when I switched to learning design," Shaw said. "I invested in a yearlong bootcamp course with a focus on UI Design that effectively taught me the hard skills I would need to break into the field."
What kind of bootcamp, course, or certification should you pursue? Not all are created equal. Shaw recommends carefully looking at the offerings to understand what they'll teach you. For example, will they give you a surface-level understanding of the process and tools you need? Will they mentor you? Will you design as part of the course?
"Over the course of my bootcamp and with the help of a program mentor, I designed five apps and built a robust portfolio outlining my design process, my learnings, my incorrect assumptions, my whole story," Shaw said.
It all depends on what skills you're looking to get out of the resource.
"Early on in your career planning, decide where you see yourself on the UX/UI spectrum," Kastenbaum says. "Do you see yourself more on the research (UX) or more on the design (UI) side? By answering this question, it will help you figure out what skill sets you should focus on."
Hands-On Design Experience
Both experts agree that no matter what resource you decide on, the best way to break into the field is to get hands-on UX design experience.
"Learn the day to day skill sets and then keep practicing," Kastenbaum says. "I think today we are lucky with the amount of resources available to us within this industry. I think what is important is to consider your own learning style and find a way that will work best for you."
Shaw agrees, noting it's important to explore resources while focusing on getting that firsthand design experience.
"There are so many avenues to design, and a bootcamp certificate is certainly not required or worth anything to a hiring manager," she says. "It's all about how you implement what you've learned into designs that are clean, simple, and feel like a real, usable product. Practice redesigning star products to get a feel for how they use patterns and create consistency across their app."
>>MORE: Careers in UX Design Roundtable: 5 Designers Share How They Navigate the Industry
Skills
You know you need UX skills to break into the field, but what are those skills? Some of the top skills for a UX designer include:
Design tools: tools used to design the user experience (like Figma)
Wireframes: mapping out what an individual web page should look like
Prototyping: creating a sample version of the final product
High-fidelity design: creating designs that look like the final design to use for testing and feedback
User personas: developing fictional characters who represent who your ideal user is
Research: conducting both market and user research to understand user motivation
User testing: conducting interviews with users and evaluating surveys to understand how users interact with the product
UX writing: writing copy that helps users along the website's journey
Collaboration: working closely with other designers, product managers, and engineers to design, scope, and build the design; working with external stakeholders to gather feedback and improve the design
Adaptability: adapting to research and feedback to constantly iterate and improve the design
Empathy: understanding user frustrations, needs, and motivations to build a design that works with their behavior
>>MORE: Practice using Figma and other UX designer skills with Accenture's Product Design Virtual Experience Program.
Online Portfolio
How do you show your UX design skills in the hiring process? "A strong portfolio is your most important tool to getting hired as a designer," Shaw says.
This portfolio can show designs you've worked on in a work experience, bootcamp, class, internship, or something you created independently.
While the interview process may require you to demonstrate your skills and work on UX designs, an online portfolio can help you get your foot in the door and show you have the skills, even if you don't have work experience.
>>MORE: How to Create an Online Portfolio (Even When You Don't Have Work Experience)
Becoming a UX Designer: The Bottom Line
UX designers work to make a user experience the best it can possibly be, but they don't do it alone. Their work involves talking with external stakeholders, research and testing, designing, building, and iterating. It's both a technical and creative role that involves a variety of daily projects.
If you're interested in the career path, you'll need to nail the right skills — whether with a degree, certification, bootcamp, course, or independent learning. Once you've got them, you can put them into an online portfolio and show potential employers you've got what it takes to succeed at their company.
Develop the skills you need to become a UX designer — like wireframing, prototyping, and high-fidelity design — with BP's Digital Design & UX Virtual Experience Program.
Image credit: Canva
The post What Is a UX Designer? appeared first on Forage.