Wondering which are the best career opportunities for business management students? We have you covered.
With so many career choices available these days for business majors, it's easy to get overwhelmed when choosing a career path.
But the good news is that a business management qualification prepares you for many exciting career opportunities including marketing, human resources, and many more.
Plus, business management students can work in different industries such as government, finance, private companies, manufacturing, and nonprofits.
Read on to discover some of the top careers you can pursue with a business management qualification.
1. Operation Manager
As the name suggests, an Operation Manager oversees all the daily activities involved in running an organization.
This is one of the key positions in any organization as it involves enhancing efficiency, team productivity, and profits.
Some of the duties and responsibilities of an operations manager include:
Ensuring all business operations are undertaken appropriately and cost-effectively.
Enhancing operational management processes, systems, and practices.
Ensuring the organization's processes are legally compliant at all times.
An operations manager may also be responsible for supervising staff, setting the organization's goals and expectations, and regularly monitoring staff progress.
According to recent data by Salary.com, an Operations Manager in the United States can make anywhere from $95,043 to $123,117 annually.
And according to the U.S. Bureau Of Labor Statistics the mean annual salary of an Operations Manager is $115,250.


Image via BLS
Salary can vary depending on several factors like extra skills, education, years of experience, certifications, and more.
2. Banker
Another one of the great career opportunities for business management students is in banking.
In the banking sector, you can pursue a career in bank management, investment banking, wealth management, personal banking, and more.
As a Banker, you can be employed by investment companies as well as personal banks where you will be providing services to individuals and businesses.
Among other duties, some specific responsibilities of a banker include:
Understanding the products and services offered by the bank such as chequing, loans, savings accounts, etc.
Recording information from new and existing customers.
Creating bank accounts for new and current clients, managing transactions, and closing dormant accounts.
According to Salary.com, a banker's salary ranges between $49,422 and $60,483.
3. Financial Advisor
According to a CEOWORLD Magazine research, Financial Advisor was ranked as the top well-paying business job in 2020.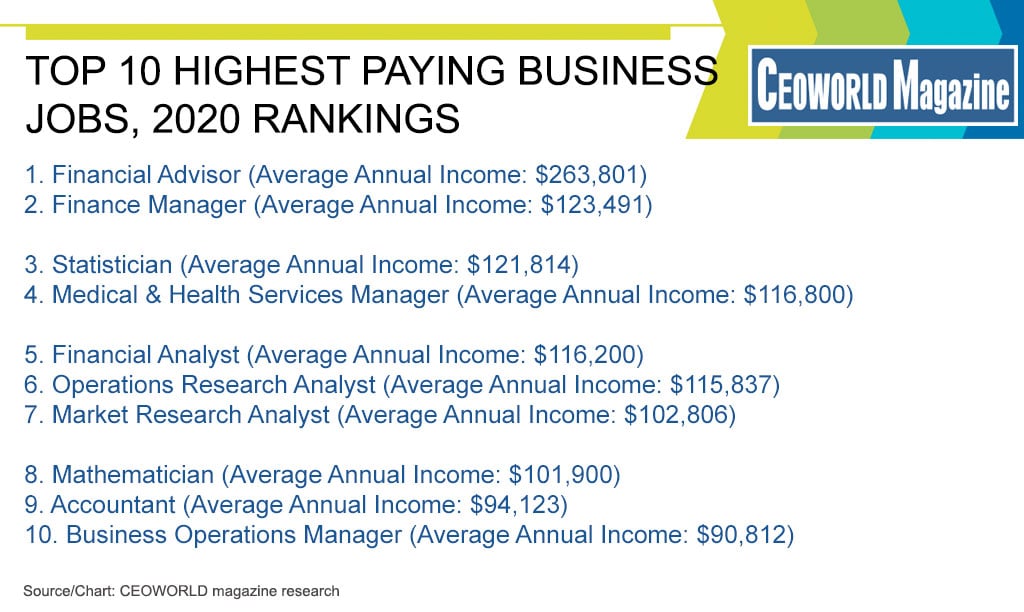 Image via CEOWORLD Magazine
Your main role as a Financial Advisor will be to provide useful advice to people about their insurance, retirement, and investment options.
Among others, a Financial Advisor provides the following services:
Educating clients on debt management
Retirement planning
Investment advice
Tax planning
Budgeting
The average salary for a Financial Advisor according to Salary.com is $66,581/year.
The good thing about this career path is that you can create online courses about your area of specialization and sell them to knowledge-hungry individuals.
You just need to find the best online course platform and you're good to start making money.
4. Business Consultant
Becoming a Business Consultant is also one of the lucrative career opportunities for business management students.
Often, Business Consultants specialize in human resources, engineering, marketing, management, etc.
The roles and responsibilities of a Business Consultant include:
Examining organizational practices and procedures, identifying weaknesses, and coming up with practical solutions.
Advising senior executives.
Determining the organization's needs.
Crafting detailed project plans for improvements.
Offering solutions and guidance in case of challenges.
Monitoring and evaluating the effectiveness of the organization's projects.
According to Salary.com, the average salary for a Business Consultant in the United States is between $62,977 and 93,562 annually.
5. Business Analyst
A Business Analyst's duties and responsibilities are pretty similar to a Business Consultant. But one is required to have some in-depth knowledge and expertise in a specific area.
For instance, a Business Analyst may be required to use specialized skills and expertise to solve a particular problem in one area like IT, finance, or accounting.
A Business Analyst career is one of the most suitable career opportunities for business management students with analytical and critical thinking skills. If you're knowledgeable in solving complex organizational problems, you may find this a great career choice.
According to Salary.com, the average salary of a Business Analyst ranges from $72,728 to $90,485 annually.
Conclusion
Pursuing a career in business management opens up a wide range of exciting opportunities.
The best thing is that as a business management student you're not limited to one industry.
You can work in almost all sectors. Hopefully, these career opportunities for business management students will inspire you to choose the right path.